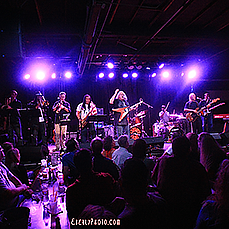 Just another rock band with a horn section? No chance.
Since 2001, the Claude von Trotha Band has combined the soulful voice and blistering guitar work of artist/arranger Claude von Trotha, with a fantastic group of SoCal's top-shelf touring and studio musicians. Their performances before sold-out crowds meld funk, blues, rock, jazz, and soul music - a 9 piece horn driven band whose muscular musicianship and creative restlessness delivers a high energy, truly unique, signature sound. The CvTB's rhythm section lays down a tight groove with a new century punch. The 4 piece horn section utilizes CvT's unique musical arrangements of both original and classic tunes that help define the band's signature sound. Add that to the warm, comedic, 'SoCal attitude' of front man Claude von Trotha and his Flying V guitars, and you have a dynamic musical entertainment package for all ages and musical likes. The Claude von Trotha Band has shared the stage with a diverse mixture of musical acts, including The Yardbirds, WAR, Michael Burks, Larry Carlton, Leon Russell, Sweet, Tower of Power, Blue Cheer, Jack Russell's Great White, Savoy Brown, Ten Years After, Canned Heat, Coco Montoya, Tommy Castro, the Fabulous Thunderbirds, Billy Vera and the Beaters, Johnny A., The Flying Burrito Bros, The Little River Band, Ambrosia, and - well, you get the picture, these cats hit hard, and the people are jumpin'! The "CvTB" constantly moves forward, determined not to labor in the shadow of their predecessors. They are truly forging their own unique, fresh, 'SoCal' musical style, utilizing the instrumentation available to them in unique ways. The result of their effort has earned 'The Claude Band' numerous accolades, but more importantly, respect among critics and peers. Find a Claude von Trotha Band show, you'll be taken in by not only the music, but the joy that the performers exude while they share their music with you.
Just Groove.

"… The Claude von Trotha Band or (The CvTB as us hardcore's know them), he's got a 'thing' about him and the way he sings that drives the ladies crazy and makes you want to stand up and groove …."
American Blues News
"They're so hot...."
Paris Hilton
"…that's a great band."
Jack Russell
What It Is
CvTB is a musical collaboration with no limits, no preconceptions. The rhythmic magic of funk and blues, sultry stylings of underground rock and old school soul, the 'no rules' attitude of jazz fusion and british invasion - all grooving together at just the right space and time. Come to a Claude von Trotha Band show - you'll be happy!